In Memory
Karl Lindholm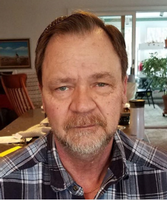 OMAHA — Karl B. Lindolm, 65, of Omaha died Wednesday, April 29, 2020, in Omaha.
Memorial services are pending. Sievers-Sprick Funeral Home in Fort Calhoun is in charge of arrangements.
——
Karl was born Nov. 30, 1954, in Audubon, Iowa.
Survivors include his wife, Angela; son, Kirk (Debbie) Lindholm, all of Omaha; daughter, Tina Lindholm of Bellevue; mother, Soffia Polhemus of Kearney; sisters, Betty (Steve) Streff, Susan (John) McAdam and Anna Midkiff; brother, Stan (Carol) Lindholm; sister-in-law, Vickie Polhemus; four grandchildren; one great-grandson; and many other family and friends.
He was preceded in death by his father, Knud Lindholm; stepfather, Eugene Polhemus; brothers, Ed and Lee Polhemus; sister, Sandy (Rip) Green; and mother-in-law, Donna Wagers.
Memorials are suggested to the Lindholm family.
Visit www.sievers-sprickfuneralhome.com to leave condolences online.